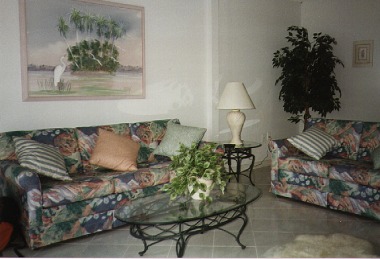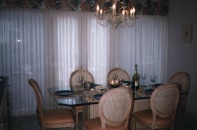 Rough Creek is situated on East Sawgrass Drive some 300 yards from the beach and beach club. The villa has recently been upgraded to a high standard and contains a unique open plan layout that has been admired by all. The kitchen has been fully modernised and contains all facilities. This is adjacent to the dining area which opens on to a screened porch which is ideal for barbecuing.

The sitting room has large picture windows overlooking both lagoon and golf course. The lower level also houses the smaller bedroom containing two doubles a bathroom (WC + Bath) and cupboard with washer/dryer. The master bedroom and adjoining screened balcony is on the upper level with an attic room that overlooks the sitting room. The bedroom also has its own walk-in closet and en-suite bathroom (WC + Shower Cabinet).

Copyright © 2000-2002 Jamie Walker, www.sagaxis.co.uk. All rights reserved. Last updated: 7th Sept 2002.